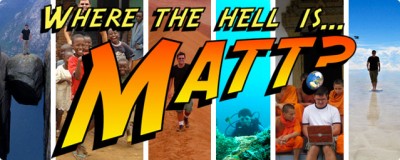 Before you all think I've just returned from truck driver school with my potty mouth blog title…be sure to read on!!!
This morning my husband Steve left the most DELIGHTFUL video on my screen for me to watch. OMG it actually had me in tears (good tears) and I'm not sure why. Actually I can't watch it without tears streaming down my face each time and such a feeling of joy I can't describe it. I think it's must be the power of dance and laughter that does it!!
Was it the music (stunning music on this video)…was it the joy of all the dorky dancing, I don't know but all I know is my spirit is certainly uplifted today after all this depressing news we are bludgeoned with on a daily basis
In short, the video is about a guy who was paid to travel all around the world to do this "dance' of his by a gum company when they heard about a video he made on his own from his earlier travels. The locals at each location enjoy his dance as much as he does it seems!! PURE BLISS is the only way I can describe it!
Watch and enjoy…I am in love with the music. I want to be Matt!!!!!!!
————————————————–
—————————————————
Be sure to read the ABOUT MATT page to learn more about this world wide trip he took.
Lucky Lucky boy!!!!
Hope this video starts your weekend off of a very uplifting note!
Hugs…Sandra!
_________________
ONE OF THE MOST BLISSFUL FEELINGS I HAVE HAD RECENTLY WAS WHEN VISITING THE CHILDREN IN THE HILLTRIBES OUTSIDE OF CHIANG MAI THAILAND.  BOY WOULD I HAVE LOVE TO HAVE DANCED WITH THEM!