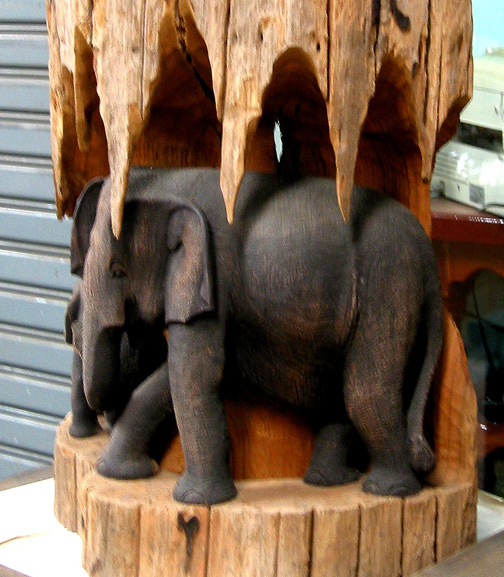 GREETINGS FRIENDS….A FEW FUN FACTS ABOUT THAILAND AND BANGKOK BEFORE WE DEPART THIS WEEKEND FOR OUR JOURNEY!!
Always greet people by saying SAWATDEE…… sawat-dii khrap if you are a male say sawat-dii kha in case you are a female (Thai people always greet before starting any conversation…)and this is an all purpose greeting(and farewell)
TIME ZONE: Bangkok is 15 hours AHEAD of Portland Oregon. They are in "tomorrow" while we are in "today" a good portion of the time.
INTERESTING NUMBERS
6.3 million city;
9.9 million metro area Land Area:
612 square miles/ 1585 sq kilometers
Average Annual Rainfall: 59 inches/ 150 centimeters
Average January Temperature: 79 degrees F/ 26 degrees C
Average July Temperature: 84 degrees F/ 29 degrees C
DID YOU KNOW?
Bangkok is sinking at the alarming rate of 2 inches/5 centimeters per year.
ORIENTATION OF THE CITY:
Bangkok is located in south-central Thailand, just north of the Gulf of Thailand. Cambodia lays directly east, Myanmar west and northwest, and Laos northeast.
Bangkok was originally named as "Krung Thep" in 1782 by King Rama I, a short term for "Krung thep mahanakhon amorn ratanakosin mahintharayutthaya mahadilok pop noparatratchathani burirom udomratchanivetmahasathan amornpiman avatarnsathit sakkathattiyavisnukarmprasit". This is the Guiness World Record holder for the longest city name
When in Thailand Do Smile: Thailand is known as the land of smiles. Thais do not necessarily smile about something like we do in the west. They smile for a variety of other reasons too. To say hello or thank you, to make a request, to apologize, to smooth over bad feelings or to show embarrassment.
It is considered very improper for women to touch a monk. Do not touch anyone on the head. The head is considered to be very sacred. Do not point your feet at anyone or anything. This is quite hard for a westerner to follow as, without realising it, we do in some circumstances seem to use our feet quite a lot e.g closing or opening doors.
TABLE MANNERS:
Most meals are served as buffets or with serving platters in the centre of the table family- style. . You may begin eating as soon as you are served. .
Leave a little food on your plate after you have eaten to show that you are full. Finishing everything indicates that you are still hungry. .
Never leave rice on your plate as it is considered wasteful. The words for food and rice are the same. Rice has an almost mystical significance in addition to its humdrum 'daily bread' function. .
I HOPE YOU HAVE THE OPPORTUNITY TO FOLLOW OUR TRIP VIA THIS BLOG AND BE SURE TO COMMENT OFTEN!! WE WILL BE VISITING INTERNET CAFE'S TO CATCH UP AND VISIT WITH YOU ALL.
IF YOU ARE NOT SIGNED UP FOR MY TRAVEL UPDATES SIMPLY CLICK HERE
TO SIGN UP FOR THE MONTHLY NEWSLETTER (SECOND BOX) ON THE PAGE.  YOU CAN UNSUB AFTER MY TRIP IF YOU PREFER.
TAKE CARE EVERYONE!! I WILL BE UPDATING SOON!
HUGS..SANDRA AND DIANA