NEWSLETTER NEWS….Somehow even after testing my newsletter 2 times and sending it to myself….the code ended up underlining all the text and cut out all of my links when I sent it to you all.
. You can find every link here via the tabs above on the blog and the sign up list is also below. My apologies!
CLICK THIS LINK RATHER THAN THE IMAGE TO ACCESS BING BING'S BIO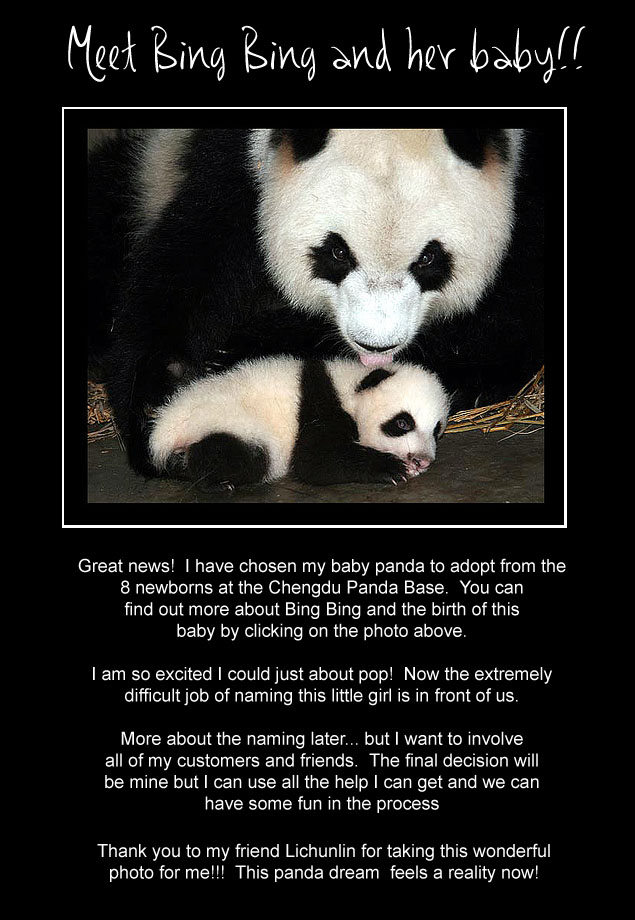 "ASIAN AURORA" PANDA NECKLACE
Will be posted on Ebay this week..Woo Hoo!!!
 In preparation for the next 6 months before my return trip to Chengdu ,I decided to created a separate email announcement list for the rapidly growing number of panda fans that I get such wonderful emails from daily! What a devoted and caring crew you all are. Your energy and spirt is what keeps my own enthusiasm level here at the studio…through the roof!
This will hopefully help me keep in touch with those that wish to receive these specialized announcements.
——————————————————–
PANDAHOLICS… EXTRA SPECIAL EMAIL UPDATE LIST…SIGN UP NOW!
Fill in the form then CLICK PANDA BELOW to join my PANDA UPDATE list. Only panda jewelry and
my panda adoption related posts will go out in these occasional mailings.
Subscribers are privy to first notice of any panda pendants that I post on the website and Ebay.
You may subscribe or unsub at any time at this page or on the PANDANT page on my website.