Hope you all are having a wonderful weekend!! I figured since I am still pretty much housebound with this virus (doctor said it is asthmatic bronchitis and concerned about pneumonia…geesh..this is all new to me!!), I would keep working on photos and putting the beginnings of some glass designs in the kiln. Thank you all so much for your well wishes and get well e cards! This too shall pass but not soon enough for me!!
I have had a lot of people ask about my camera and lenses I used on this trip. Those super closeup of wildlife were pretty much exclusively taken with the lens I bought just before we left. The camera is a Canon Rebel XT and the lens is a 100-400mm zoom……a WHOPPER of a lens as you can see below! I bought a monopod that doubled as a great walking stick when I didn't want people to know I have a vision problem (white cane not good in high crime areas or as the camera guy told me…."we don't want to clue the lions in that I can't see them!")
The vehicle you see me in is the landrover we did all our game drives in at the Nxbega camp in Botswana. The farthers fella from me is the tracker who sits in a chair that is beyond the hood of the truck…he sees the animal tracks before they get run over by the vehicle.
These are male leopard tracks below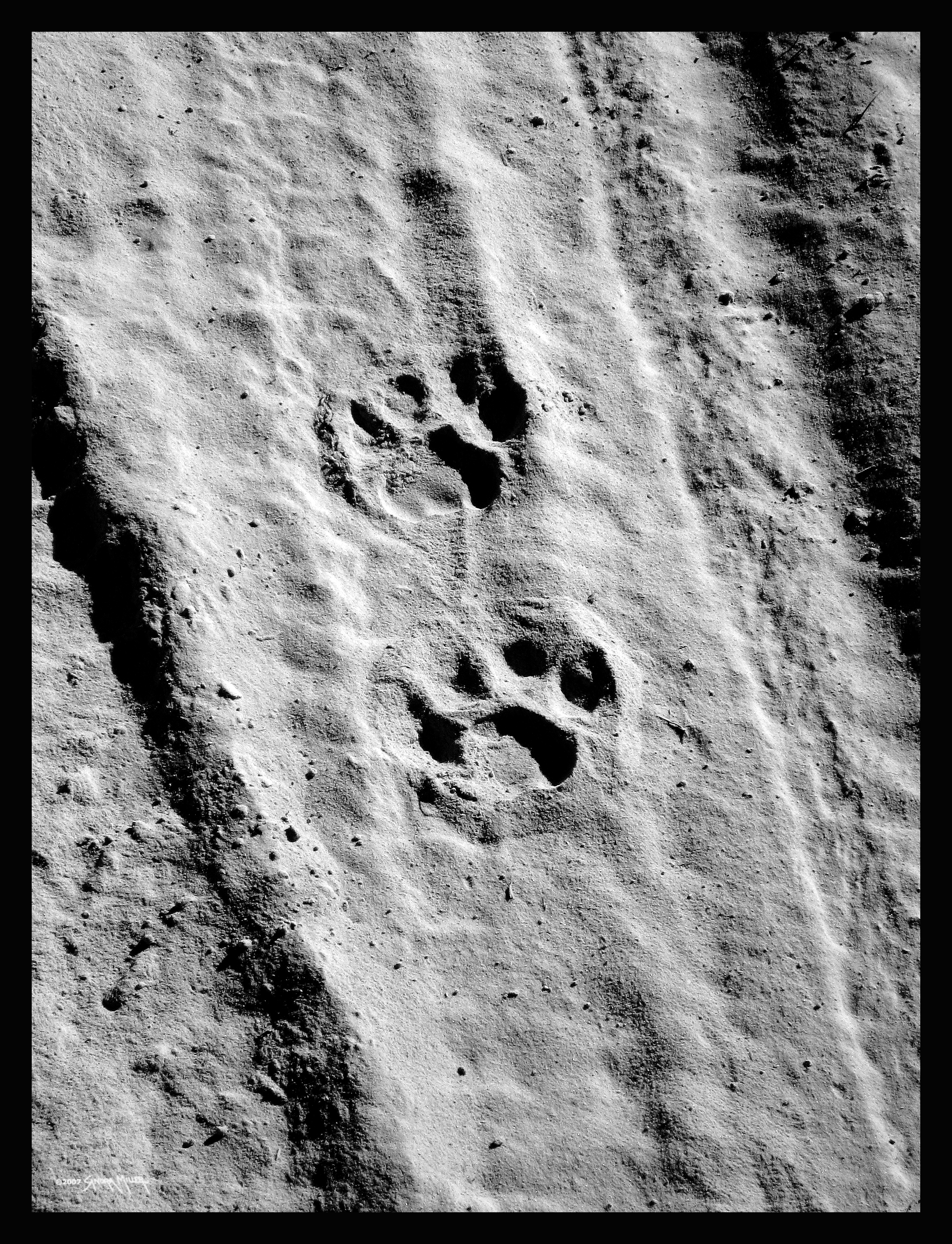 Below is a wonderful shot of Bernice Franck, Steve, myself and Liza who is the female Chow we sent to SA as a puppy. This is the first we have seen of her in person since she left and we were so thrilled to see she was just as beautiful as Francks gorgeous photography of her….he even caught her personality dead on!!! There were no surprises and we are so proud of what the Leroys have done with this Champion girl!!! SA Ch. Chinarose Ciao Licenze to Thrill
Check out the Ciao Chow website to see the great album Bernice put together of our week with them!!! I wish I were that far along in my photos!!! I have 3 weeks of pix to go before I get to Johannasburg so this will give you a super sneek peek at coming attractions!!! Thanks Bernice…the albums make me long to come back right away!!!!
CLICK HERE TO GO TO THE CIAO CHOW WEBSITE