CLICK THE EMAIL LINK TAB AT THE TOP OF THE BLOG TO RECEIVE HOSTESS INFO
……VERY LIMITED PARTY DATES ARE STILL AVAILABLE…..
SCROLL BELOW THE ANNOUNCEMENT FOR MORE DETAILS
CLICK GRAPHIC BELOW TO READ ANNOUNCEMENT LARGER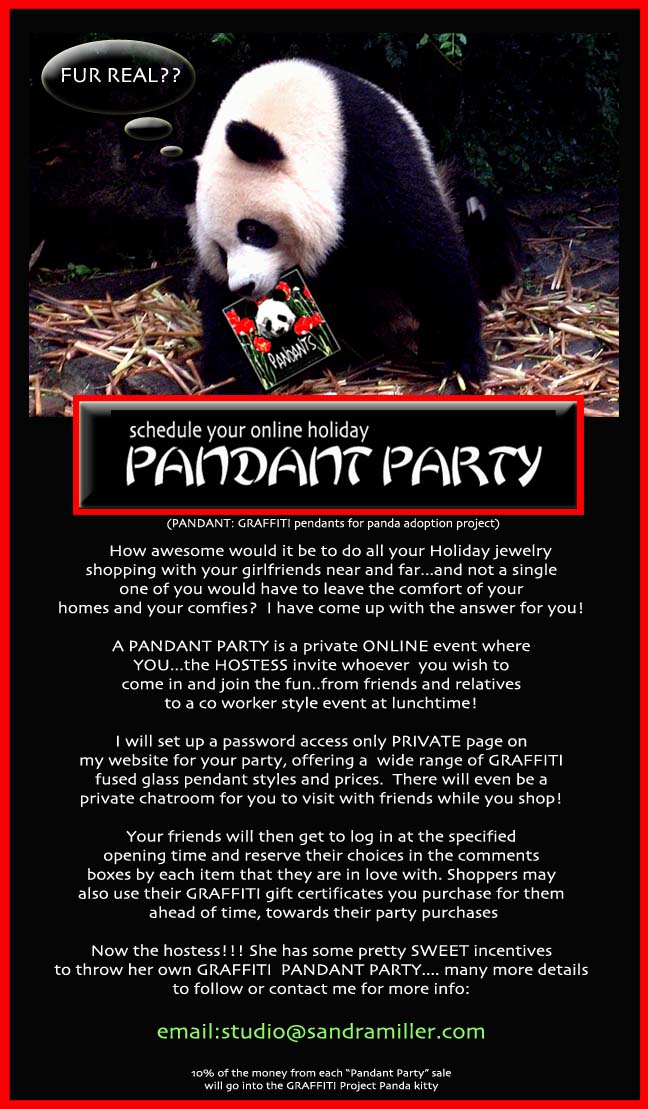 SOME OF THE PERKS FOR BOTH YOU THE HOSTESS AND YOUR FRIENDS!!
FREE GIFTWRAPPING AND PERSONALIZED CARDS FOR GIFT RECIPIENTS

FREE USPS FIRST CLASS SHIPPING TO BUYER OR GIFT RECIPIENT
HOSTESS STARTS OUT WITH A $25.00 GIFT CERTIFICATE FOR HERSELF
HOSTESS GETS TO CHOOSE ONE PICK PENDANT BEFORE THE PARTY TO CREDIT HER CERTIFICATE TOWARDS…There will be a 5% bonus credit for the hostess to add to her 25.00 Certificate for total Pandant Party sales
THERE WILL BE A VARIETY OF PRICES AND DESIGNS AVAILABLE (maybe a panda or two in the mix but mostly my signature designs)
NECKWIRES AND CHAINS WILL BE AVAILABLE AS ADD-ONS FOR GIFT PURCHASES


THERE WILL BE NO VIP DESIGNER DISCOUNT ON THE PANDANT PARTY

DESIGNS, HOWEVER EACH PENDANT WILL COME WITH A BEAUTIFUL FUSED GLASS MINI PENDANT "GIFT" FOR HELPING ME TOWARDS THE EVENTUAL ADOPTION OF A BABY PANDA IN CHENGDU CHINA!!!

In addition each buyer's name will be listed on my Friends of the Pandas page with their purchase pictured


PARTY DATES ARE FILLING FAST….TALK TO YOUR FRIENDS NOW AND I CAN WORK WITH YOU ON A DATE TO ASSURE YOU HAVE A SPOT. AN ATTENDENCE OF 5 FRIENDS PER PARTY MINIMUM IS REQUIRED TO BOOK A DATE…


I WILL PROVIDE THE HOSTESS WITH AN AWESOME INVITATION TO EMAIL OUT TO HER FRIENDS, FAMILY AND CO WORKERS….NO WORK ON YOUR PART AT ALL! IF YOU PREFER I CAN DO THE MAILING FOR YOU.
GIFT CERTIFICATES MAY BE PURCHASED AHEAD OF TIME FOR YOU TO PRESENT TO YOUR FRIENDS TO USE AT THE PARTY….A FUN LAST MINUTE SURPRISE THAT WILL TOTALLY BLOW THEM AWAY!


AND WHAT IS A PARTY WITHOUT SURPRISES??? THERE WILL BE IMPROMPTU GIVEAWAYS TOO!! THE MORE ATTENDEES…THE MORE PRIZES !!!!