CLICK PHOTO TO ENLARGE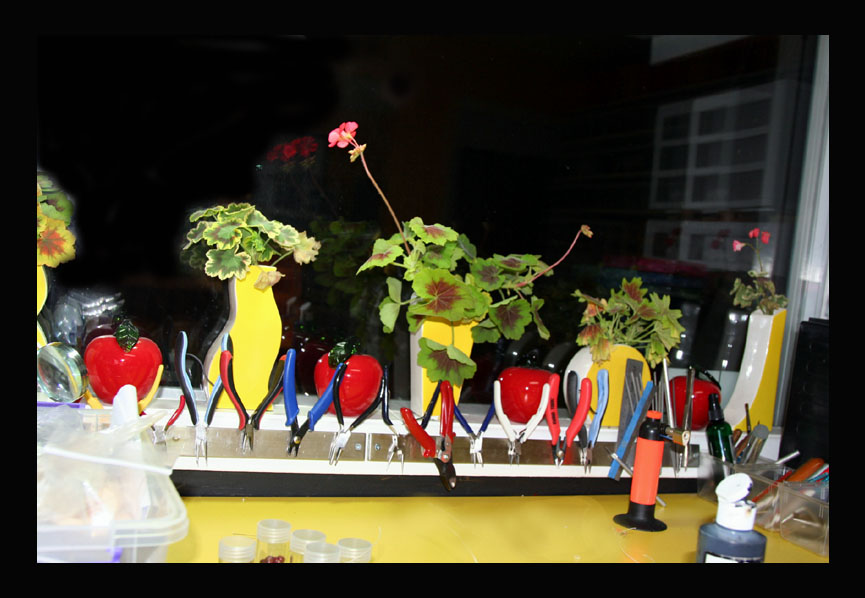 Yesterday I just finished the reorg of my studio which I do about once every 2 months to keep track of my bead/raw glass inventory as well as my sanity! I have so many beads at this point its getting embarassing… not to mention all the glass in every shape and form and TOOLS… I am a fool for my jool tools!!!
One of the best purchases I made this summer are the magnetic tool bars
you will see on the window sill in the photo below. Ikea has them and on Ebay I got 2
for about 20.00 post paid…for the pair!!!
I totally didn't want to put screws in the window frame but it was my
only choice for convenience…and tools need to be convenient!
This ended up being the perfect choice because the handles are all up in the air
with no wall behind them . Its very easy to grab them. I took these
photos last nite..can you see my geranium cuttings are actually blooming in
the window!??
Here is the link to where the studio pix are …starting at photo #26 is where the new pix are mixed in with the original album. More angles of room and some new stuff as well