Steve and I just now returned from the Panda Breeding center in Chengdu and I am left pretty much speechless!!! Can you imagine being right next to an 18 month old panda weighting well over 250 pounds??? I got to stand right next to her and pet her as she ate her bamboo. She threw her head back and looked right into my eyes and grunted. I started to cry and laugh at the same time. What an experience of a lifetime!!!!! Steve took tons and tons of pix that I am just itching to get downloaded when I get home.
CLICK PHOTO TO ENLARGE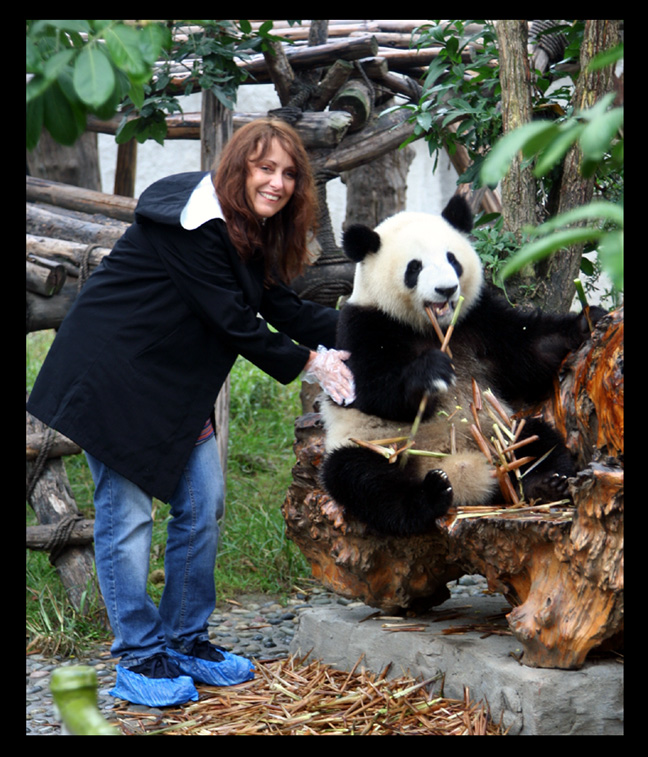 This panda park is like no other wildlife refuge/zoo/display I have ever seen before. This is a world class exhibit on beautifully landscaped grounds. Everywhere you looked were bamboo lined paths….then in the openings you would inevitibly find one , two or even 3 pandas at a time eating bamboo or playing with one another. There were 40 pandas altogether!!!!
The babies in the incubators were perfect miniatures of the parents. One keeper had a baby out for us to see and was rubbing it's belly to get it to potty since it was taken from it's mother for safety reasons. This year this facility had 9 babies…last year only ONE…so this has been an incredibly productive year for them and important as well.
I was told that when I come back for to adopt my panda there will be a ceremony, the press will be there and the TV news!!! They were very excited about my panda project and want me to keep them informed about the progress we make (friends, customers and myself) in working towards the full adoption of one of the babies. I will get to choose from one of the babies I saw in the incubators and name it too!!! They will be sending photos as the babies grow so I can get to know them better over the next year or so.
CLICK IMAGE TO ENLARGE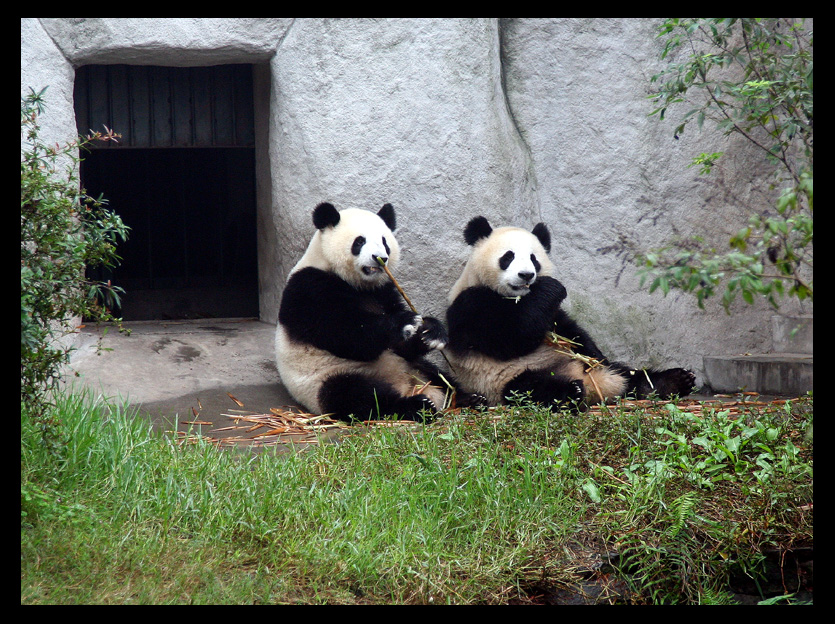 I have so much to tell but need to let someone else use this computer. We are just chillling out here at the hotel today then on to Kunming tomorrow to meet up with my son. I can't wait!!!!!
Thank you all for writing!!! I am so anxious to show you all the pix!!
Luv
Sandra and Steve