I have a moment to write and fill you in on our day today. Bryan stopped by our room at about 10:00 this morning and we headed out to the bird market by taxi. It has been pouring out for 2 days but we can't bear sitting in a hotel when Kunming is out THERE!!!
CLICK PHOTO TO ENLARGE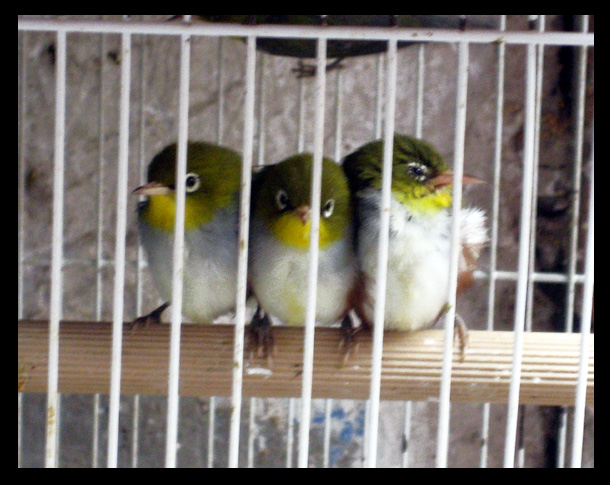 The bird market was fantastic..not as many birds as I had hoped but this being "Golden Week", so many shops are closed. It seems the equivilant of our Thanksgiving in that people go visit family and relax. This 5 star hotel is literally deserted and we are being waited on hand and foot. Its so weird to go into the lounge every day and be the ONLY people in there.
Next to the bird market was the most fantastic hand crafts market you have ever seen!!! I got a beautiful inside painted snuff bottle with koi, and some purses from Tibet that are the most unique shape!! Lots of "jade" and needle crafts too. We bought quite a bit of the textiles as they were so detailed and fairly reasonable in price
Then we headed over to a cafe by Bryans dorm where he and his new friends hang out. Lo and behold his classmates from the U.S. and England were there so we sat down with them for lunch. It was great to really get a feel for what Bry's life will be like and who his friends will be here. It is a big SIGH of relief to see how much fun this city is. Bryan came with some great news this morning too. He just found out he was accepted for a State Department internship…it could be in D.C. or in China somewhere!! We are so excited for him we could pop and were glad to be here when he got the news via email.
Tomorrow we leave to go back to Hong Kong for one nite. We take a high speed ferry to Kowloon from the airport so again another new experience. It's about 3 hours from here to HK so more air time…We are getting tired of flying but it beats the slow train.
Guess I had better run for now. Liz, we miss you!!!! We had a beer for you with Bryan like you asked!! He misses you too! Mom…it was super talking to you today!!! Diana…crossing my fingers for Brittany!!!! Thank you all for hanging out here with me this week!!
Love Sandra , Steve and Bryan