FIRST THINGS FIRST…Thank you so much everyone for your bids on the Panda pendant auction. I listed another charmer just now and you can find her at this link!
PLEASE NOTE THIS IS A 3 DAY AUCTION….CLICK HERE TO VIEW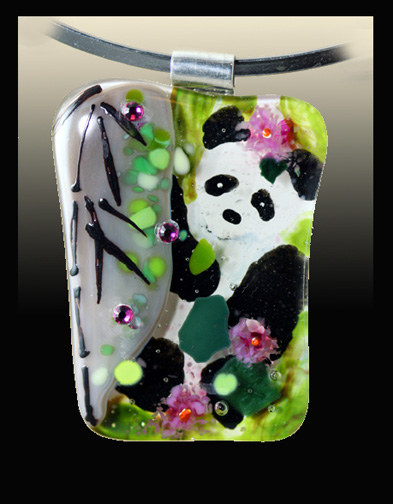 I spent 6 hours today and got 4 more albums done!!! The Great Wall shots are some of the coolest pix and that album will take longer to download I'm sure.
The Beijing Zoo is where I am starting you with the next 3 being under it in the links at the top of the page. This is the zoo where they had dogs and cats too! It was pretty weird to say the least.
Also I finished a new pendant yesterday. It's the one I showed you all a section of the patterned glass earlier last week. This is the finished piece
CLICK PHOTO TO ENLARGE THE COLLAGE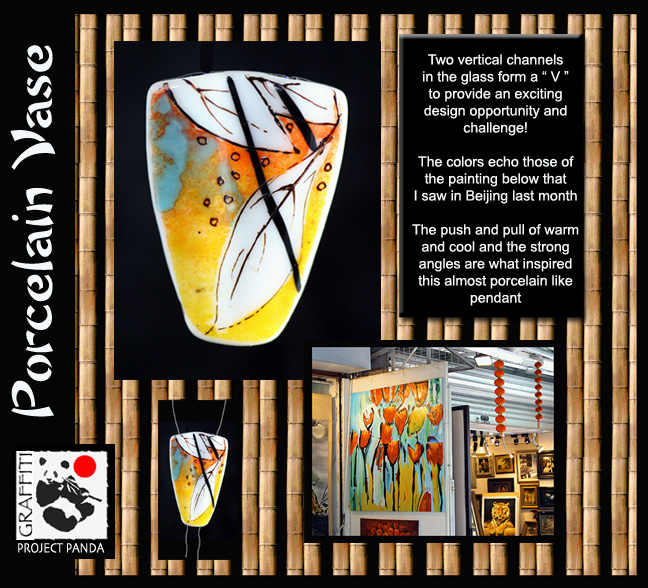 I did this quite differently creating 2 channels forming a "V" inside the pendant for stringing! I can visualize a 3 or 5 strand design with the "fringe" continuing on from the bottom in a "Y" necklace layout..OR..it can be strung upside down..OR with no extra hanging out the bottom at all. Even sideways is a possibility ….OR a hunky chunky bracelet done in an assymetrical design.
The look is very porcelain like with a backing of black glass to make the colors pop.
This piece will be up on my website today. I can custom make an awesome necklace for anyone who is not a designer themselves…Just ask if you are interested for a price quote.