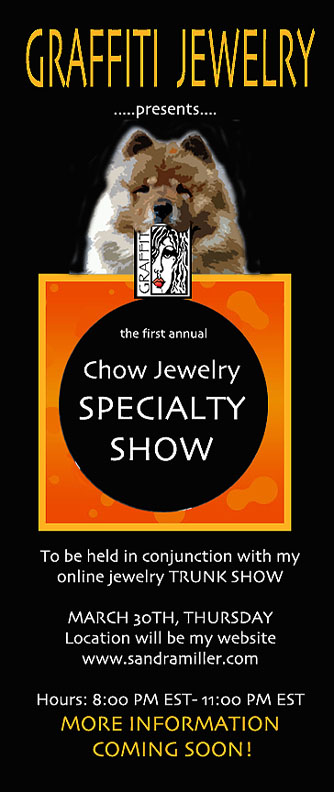 The date has been set..now mark your calendars!! My Fur-st (ahem..first) annual Chow Jewlery Specialty Show will be held on March 30, 2006.
NOTE: MY MAILING LIST UPDATE STATED JUNE 30 AT THE TOP OF THE EMAIL. THAT IS NOT CORRECT. THE CORRECT DATE IS MARCH 30
This show will be in conjunction with my regular ONLINE JEWELRY TRUNK SHOW where all sorts of gorgeous pendants and necklaces will be available as well as the Chow items.
Our National Chow Specialty in Olympia WA is coming up in May, and I have had a lot of requests to do jewelry for this special YEAR OF THE DOG and 100 YEAR ANNIVERSARY Celebration. This is the best way I know how to commemorate this auspicious year for my friends who love this breed so dearly.
More info coming later in the week..stay tuned!!