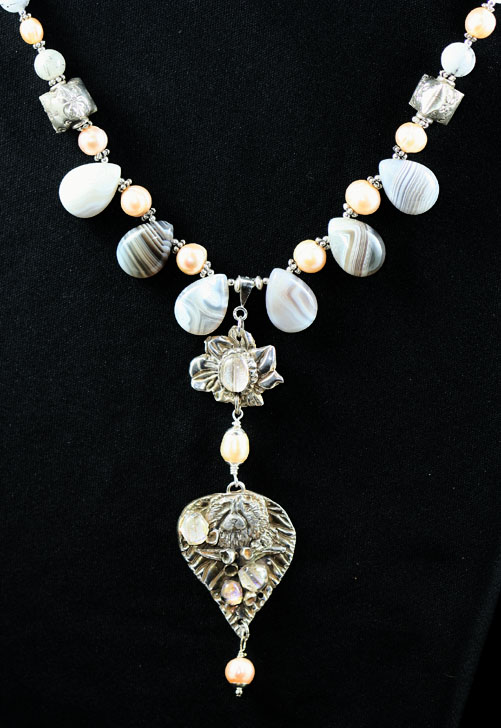 We woke up to a little bit of a surprise yesterday as you can see above. A mini march blizzard in Portland. What a beautiful snowfall with big HUGE fluffy flakes coming down.
I was sitting in my studio window pondering one of my silver Chow creations over a cup of hot apple cider and was waiting for inspiration to hit on what to do with this beautiful pendant…..then it struck me…Portland is so monochromatic in winter and this COLOR photo proves it….I had to doublecheck my camera settings when I uploaded it to make sure it wasn't set for black and white!
I decided to go with some of the most beautiful greys I could find in my collection which were these incredible agates I got in Thailand.I wasn't going to show this piece until the Online Trunk Show on June 30th but couldn't resist..I am so excited how stunning this one turned out! I won't say anymore about it…you will just have to wait to hear all the details.
Please stop in my chatroom and leave a message… I also added a BLOG subscription option if you wish to be updated automagically each time I post to this journal. I do post some surprise giveaway pendants etc….so it is definately worth signing on. Extra perks for those that hang around the GRAFFITI GOSSIP streetcorner!!!!Hugs..SAndra